Through the years, Visun Medical has gathered a lot of knowledge within medical equipment and consumables industry. The service towards the customer in this field of the industry makes all the difference and the quality of the customer service today still has an enormous influence on the customer's choice behavior when different brands are weighed against each other. Our customers are mainly hospitals, clinics, spas, beauty salons, and health care organizations from different regions. In addition to stock-in-trade, we also manufacture original medical components for our partners.
1. Our clients make us what we are
"To give real service you must add something which cannot be bought or measured with money, and that is sincerity and integrity." – Don Alden Adams. With that spirit in mind, Visun Medical always be a values-driven organization and focus on customer's needs and benefits. We are a values-driven organization. Our values reflect the thinking of our president, Mr. Trinh Quang Hung, managing from 2016 until now, who was a major force in shaping the firm. Our values have been updated in small processes to reflect the changing times. They inform both the way we serve our clients on a daily basis and our long-term strategy as a firm. We put aside one day a year to reflect as a group on what our values mean to customers, to us, and to the community.
Hospitals
Medical personal protective equipment continues to play an integral role in the prevention of transmission of infection in the healthcare setting. There is no doubt when most of our big orders come from hospitals, obviously. Our Visun Surgical Face mask, Visun Medical surgical gown, and Visun Medical coverall jumpsuit are our best sellings for hospitals. They are examples of personal protective equipment that are used to protect the wearer from airborne particles and from liquid contaminating the face and all the body as well. Personal protective equipment used in the surgery setting for the purpose of prevention of transmission of infection, particularly in the pre-op or holding and post-anesthesia care unit has played an important role in the facility's infection prevention program.
Our personal protective equipment has evolved over the years as healthcare needs have increased and become more challenging. It is important for facilities, regardless of the setting, to utilize personal protective equipment effectively and include the following in the infection prevention plan for maximum benefit:
– Follow internationally recognized standards and guidelines for the prevention of transmission of organisms from healthcare worker to patient, patient to healthcare worker, and patient to patient.
– Provide healthcare workers with the necessary education, guidance, tools, and supplies to enhance the use of personal protective equipment.
Spas and salon or barbershop
In the beauty salons and therapists, personal protective equipment plays a vital role to keep people safe and prevent them from harm. Personal protective equipment helps them to carry out the standards that maintain effective health, safety, and hygiene throughout their work to protect people in the workplace, including staff, their customers, visitors, and members of the public. They are required to use and wear the appropriate protective equipment or clothing when using or working with chemicals such as for cleaning or when dealing with hazardous waste. Protective gloves and face masks are the normal requirements for these types of activities. Therefore, they choose to use our Visun medical protective products. E.g Gloves and face masks when handing colorants and chemicals; plastic gowns to protect their clients.
Hospitality industry
Protective clothing and personal protective equipment is an essential safety feature in any workplace, and the hospitality industry is no exception. The hospitality industry has been hit hard by the Covid-19 pandemic. Social distancing and travel restrictions have brought new challenges for resorts and hotels. Resorts and hotels will already be putting changes into effect, and chances are this will become a new normal in the hospitality industry. It is key that they provide a safe environment for not only their guests but their workplace. That is why they choose our Visun medical protective equipment. Some are even more creative when customizing the masks or face shields with their branding by adding their company logo.
Resorts and hotels are renowned for offering luxury full services. Therefore, they usually order our Visun medical personal protective equipment kit as a gift for each of their guests, including face mask, gloves, and hand sanitizer. That must be a sought-after item everyone will probably want on-hand in every room and workstation.
Health care organizations
Workers in health care organizations or communities are required to wear personal protective equipment to reduce or prevent exposures to hazardous chemicals, particulates, fire or other health risks. Community workers are often the first point of care for vulnerable and underserved populations in low- and middle-income countries. Many routine care delivery services provided by community workers risk bringing them into contact with body fluids and require the use of basic protective equipment.
To ensure continuity in essential service provision, some of Visun Medical's clients who are working in health care organizations and communities have ordered our product to protect their community workers. A basic package of personal protective equipment required includes surgical face masks (disposable), face shields or goggles for eye protection, gloves, and surgical gowns.
Besides, based on some of their charity programs for community caring, they also order our products for donating to social communities that are in need of medical protective equipment.
2. Our partners make us more productive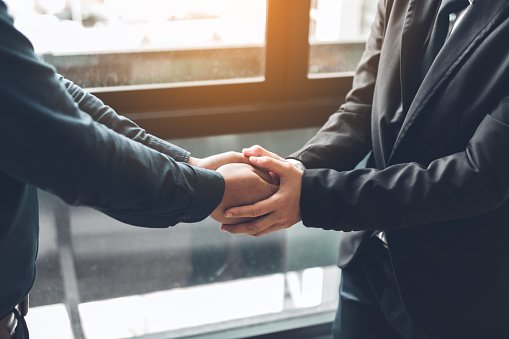 In today's cost-conscious environment, medical device companies must continually seek ways to efficiently produce high-quality products that meet and exceed market needs and have proven value to end-users—physicians and patients. Devices and components for use in healthcare delivery today are more complex and sophisticated than ever before, as advances in technology and materials give rise to new ways of improving surgical outcomes and patient care. Therefore, besides providing available medical products, Visun Medical also operates our business as original equipment manufacturers (OEMs).
Given the economic, technological, and regulatory pressures of today's med-tech market, our OEMs partners look for ways to decrease development cycles, production time, and costs to maximize value and profitability. Outsourcing is one viable option, as it allows companies to focus on core competencies internally and free up resources that fall outside their core competencies for maximum competitive advantage. We are proud that we work with many partners in the industry around the work, we have provided component and do OEM services for many well-known brands such as Harison, Unitex, Bytes, DigitalRaider, Sensus – CellMark, Risun Supply Chain, Philips, Chamed, Olympus, BD… to name just a few of our recent partners.
Partners who are getting corporated with Visun Medical means reaping the benefits of best practices within the medical industry. In contrast, our partners promoted us to be more productive and unstoppably expand our production operation.
For any concerns, our customer service center Visun Medical offers well-established expertise in providing telephone (+84) 89 804 8222 / (+84) 97 675 6358, email kimngan@visunmedical.com, and web chat support to a wide range of issues. A team of experienced customer service, sales, and technical support specialists with the Visun Medical DNA takes care of you and your customers. Our objective? To keep you satisfied, day in, day out!