In many industries, wholesales companies are the intermediate agents that facilitate the flow of goods between manufacturers and customers. In the market of medical equipment and materials, wholesaling plays an important role. Firstly, wholesalers provide a one-stop-shopping simplicity for retailers or customers with a wide range of products, such as gloves, face masks, surgery gowns, or coverall jumpsuits. Secondly, it can lower prices based on bulk purchasing. Hence, buying from a wholesaler is usually a preferable option. Thirdly, many wholesalers have developed a strong relationship with physicians and hospital buyers, which helps them gain more industrial knowledge. Therefore, they have the ability to offer a quick response to market demand and educated insights into the differences between medical product lines. This market and product information helps retailers or customers like hospitals, clinics, laboratories, and spas make better purchasing decisions. For these advantages, wholesalers have been thriving in the medical and healthcare industry, and the market for wholesaling still has large potentials.
Visun Medical – Our wholesales business
At Visun Medical, besides manufacturing and delivering OEM services, we also promote wholesaling business – distributing in bulks medical products to our partners all over the world. Our target customers include both medical retailers and end-users, such as hospitals, laboratories, clinics, beauty salons, and spas.
When it comes to the healthcare industry, a major challenge is the stringent regulations, nature of the industry, that need to be considered when choosing equipment suppliers. For this reason, the searching and sourcing process may require a significant amount of time and money invested. As a result, most buyers prefer large suppliers that have been operating for a long time and have been familiar with the process of obtaining regulatory approval for medical products. All of Visun's products undergo the required standardized tests and get certified by reputed organizations. Our sample tests, verified by SGS Certification, The Food and Drug Administration, CE marking, ISO 13485, etc.,   are well-accepted in most countries.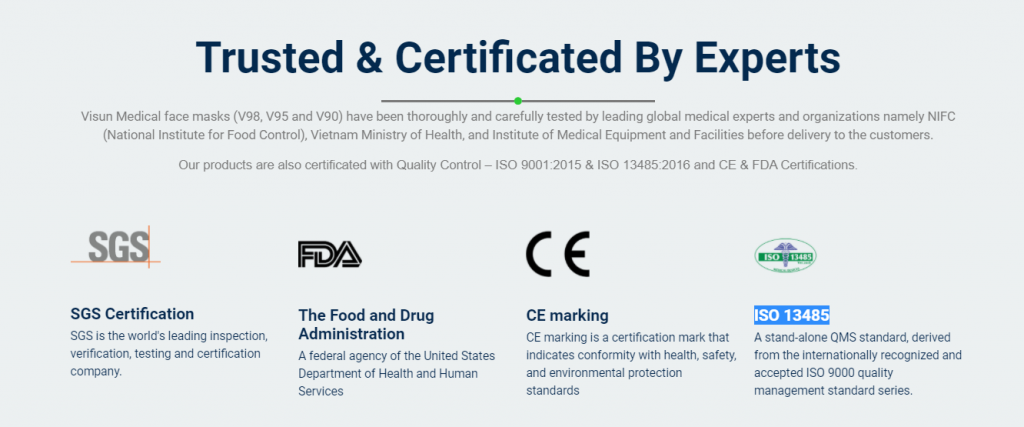 Manufacturing capacity and commitment to delivery time will also affect the wholesaling deals. At Visun, we have our own factories in Vietnam with high practical capacity, which can guarantee a sustainable supply source and on-time responses to customers' orders. We have been focusing on improving our logistics and supply chain to bring about the smoothest process for our customers. Mass production time will depend on your order quantity but we have never missed a deadline to deliver goods.
Some manufacturers will require an intensive procedure including a burden of paperwork throughout the purchasing process. At Visun, we have been trying to simplify all processes to optimize your purchasing time. It is straightforward to start looking for a particular product and send an order to us. The first stage, including browsing products, picking the products you want to order, and sending the first order/request for quotation, will take you just a few clicks on our website. After confirming your orders, we will proceed to prepare the quotation or, if you have requested customized products, we can send you a working sample of the products and wait for your feedback on the sample. Normally, the quotation will be sent to you within 2-3 working days. For sample product delivery (if you are using our OEM service), it will take around a week to be delivered.
Visun Medical also values research and innovation in medical products. Our partners also look at our flexibility and our product's customizability. For any wholesalers or customers who would like to order a large number of customized products, they can also refer to our OEM service here [link to OEM]. Let us make your product idea come true and give you the ability to distribute large quantities of your products to the market.
Payment is also a crucial factor that everyone should consider when performing a purchase in the wholesales market, especially when purchases are made cross-border. There are many concerns about quotas, taxes, and other regulations when do bulk purchasing sourcing from a foreign manufacturer. Understanding this, we have established standard payment methods and guidelines that you can take for reference (Read more [link to Payment]). You can pay with your cards or make a bank transfer. Discounts and other types of promotions are frequently applied to all bulk-buying customers.
Below is a summary of factors to consider when choosing a medical supplier and how Visun Medical can help with our wholesales system.
| | |
| --- | --- |
| Factors to consider | Visun Medical Wholesales |
| A certified source of supplies that meets all regulations | We have a firm commitment to product quality, having certifications from renowned organizations |
| A reliable source of supplies that ensures quantity and time of delivery | We have a chain of highly efficient factories and smooth logistics process |
| The purchasing process | Simplified ordering process, less paperwork, dedicated support team during the purchasing process to help you out |
| Flexibility and ability to customize | Visun OEM service allows you to order customized products for your bulk purchases |
| Payment | Flexible options to choose from, easy transfer to speed up your purchasing process, quick support for issues about cross-border payment |
Our keys to success
Keep it simple for the customers
We understand that the process of procurement can be really arduous for companies. Hence, we always follow the principle to make everything simple and straightforward for our partners and customers. We are open to all feedback on how our process can be improved to serve you better. Don't hesitate to send us an inquiry here [link to contact form].
Quick local support and strong global knowledge
Over the years, we have established a partnership with large and renowned companies. Some of our partners are Abbott, Eppendorf, Siemens AG, Karl Storz, CellMark AB, etc. From the cooperation with these partners, we have developed strong industry knowledge, allowing us to consult our customers when it comes to medical equipment wholesales.
Make it a win-win solution
At Visun Medical, we highly value mutual growth when forming a partnership or when selling products to wholesales customers. Our growth depends on your growth. Hence, we always promote policies that foster the relationship with the customers, helping them to bring out the best in their business. This direction has helped us to stay strong in the industry and will continue to help us grow in the future.